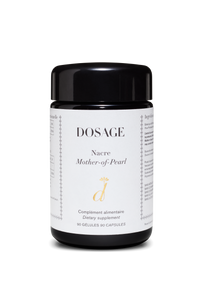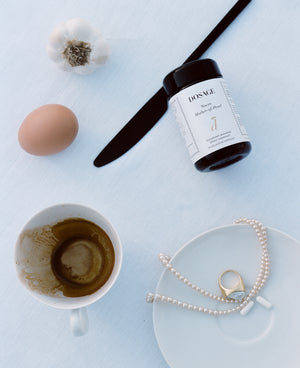 Pure powder extract of mother-of-pearl (Pinctada margaritifera)
Oral administration
1 capsule per day for long term benefits
External application
Face mask or finishing powder
Beauty

Promotes the regeneration of new skin cells

Improves the complexion's radiance

Prevents fine lines and wrinkles by firming and plumping skin

Restores collagen production

Wellness

Activates the senses

Settles the mind

Calms the nerves

Enhances immunity

Vitality

Strengthens and protects bones

Pacifies the liver

Increases resilience

Aphrodisiac

Boost metabolism
Mother-of-Pearl is comprised of:
95-97% Inorganic substances: calcium carbonate in the form of pure aragonite and mineral elements (free from calcite, metallic particles, chemical contaminants and heavy metals).
3-5% organic substances: macro biological molecules, polysaccharides, lipids and fibrous proteins (rich in amino acids in association with small molecules, peptides and trace elements).
Bone mineralization

The cells which participate in the synthesis of mother-of-pearl operate in a similar process that is observed in human bone and cartilage cells.

Mother-of-pearl is a calcified structure, forming the inner shiny layer of the shell of some mollusks. It is the natural outer skeleton of the oyster. It has an exceptional microscopic structure and high mechanical resistance. In addition to the normal calcification process, the shell of molluscs has the ability to quickly repair physical or pathological damage to its own shell and to partially "reshape" it. This observation has led researchers to study this material and compare its properties to those of the human skeleton for use as a biomaterial. The bioactive molecules present in Mother-of-Pearl stimulate bone-forming cells, osteoblasts, bone resorption cells and osteoclasts. Dietary calcium intake is known to have a positive role in bone mass and reduced risk of fracture.

Skin care

Mother-of-Pearl extract has biological effects that stimulate the regulation of cell proliferation and tissue activity of the skin, in particular fibroblasts and/or keratinocytes. The biologically active molecules of nacre have properties on the hydration of the skin and/or promote the densification of the dermis.

Not unlike the skin, Mother-of-Pearl plays a protective role for the Pinctada oyster, and has the power to self-repair.

Mother-of-pearl extract has been shown, in vivo and in vitro, to stimulate keratinocytes and fibroblasts (including type I and III collagens, and decorin, an important molecule in cell communication and adhesion) which play a major role in regulating cell growth and regeneration of skin tissues.

The Mother-of-Pearl that lines the shell of Pinctada margaritifera is particularly thick and rich in active substances. These delay the consequences of aging by promoting skin hydration, densification and resilience.

One of the secret components in M-o-P is conchiolin. Conchiolin combines with skin lipids to form collagen which both moisturizes and prevents moisture from escaping. It promotes skin cell metabolism and repair, leaving your skin with an ageless natural glow.
Purity
✕
No calories
No additives
No artificial colorings
No pesticides
No heavy metals
No processed sugars
No lactose
No gluten
DOSAGE mother-of-pearl has been carefully and lovingly selected for safe use.
DOSAGE is committed to using only certified raw materials and is subjected to microbiological tests before and after their processing.
Mother-of-Pearl
✕
Pearl is made of mother-of-pearl, but Mother-of-Pearl is more than pearl!
A cultured pearl is the result of a human inflicted wound: it forms around a piece of nacre from another freshwater mussel which is slipped in through an incision in the shell. As a result, pearls often contain impurities such as sand, which is an obstacle to the quality of the resulting edible pearl powder.
DOSAGE Mother-of-Pearl powder is made from the shell's inner lining of Pinctada margaritifera oyster. Oysters in marine water have a filtering, purifying and clarifying action superior to that of mussels. This natural process helps to eliminate microbial contaminants and offers unparalleled purity, without harming the mollusk.
Formulation
✕
DOSAGE partners with a French supplier that works with a team of researchers to guarantee the purity of the raw material and produce it according to strict specifications in harmony with the environment.
Dosage uses mother and mother-of-pearl only; no flow agents or fillers are added when encapsulated.
Capsules are easy to use and make the consumption of rare foods more accessible and increase their bioavailability.
Plantcaps™ capsules are a more natural and safe alternative to other types of capsules on the market. Plantcaps™ capsules are made from Pullulan, a vegetable-derived, water-soluble polysaccharide produced through a natural fermentation process from the tapioca plant.
Craftsmanship, advanced technology and innovation ensure optimal quality.
Culture
✕
The giant oyster Pinctada margaritifera is cultivated for pearl production in marine water in Australia and French Polynesia.
The use of farmed oysters initially cultivated for pearl farming avoids decimating wild species and limits the negative effects on biodiversity. This approach minimizes waste and optimizes co-products.
The specific locations and regions where our oysters are cultivated are far from the main port areas and various sources of stress (fishing, exploitation, tourist area, etc.) to ensure the preservation of their ecosystems.
Through its partners, DOSAGE applies a traceability system that goes beyond the already severe standards defined by the industry. Control of the entire logistics chain guarantees protection of the local populations, respecting the work of artisans and the quality of their craftsmanship.